Join Us!
Sunday School – 9:30 am
Worship Service – 10:30 am
Food Pantry
1st & 3rd Tuesdays of each Month
Where: Church basement
Hours: 5:00 pm – 6:00 pm (NEW TIMES)
Who: Anyone in need
Please contact Mert @ 217-218-8914 for more information
Welcome...
Hindsboro Christian Church (HCC) is a warm, inviting and friendly gathering where we strive to share "Real Love, Real Hope" with those who visit or attend. Children of all ages are welcome to be part of our services or checked into a class for their age group. Dress is casual and jeans are always welcome!
Sunday Service Times
Sunday Bible Study 9:30 am - 10:15 am
Sunday Service 10:30 am - Noon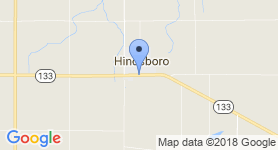 Hindsboro Christian Church
104 Illinois Street
Hindsboro, Illinois 61930
t. 217-346-2268